Garofalo Fusilli Primavera
#37-1
16x500g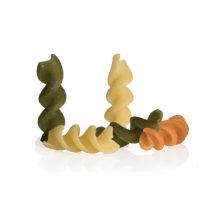 They have the colours of the Italian flag and bring local taste and tradition to the table: Garofalo Fusilli Primavera are a versatile short pasta shape suitable for any condiment.
In this revised and original version, the pasta masters added fresh spinach and fresh tomatoes to the dough made of durum wheat PGI.
The result is a cheerful, colourful and tasty pasta that holds sauces well and maintains its cooking to perfection.