Garofalo Cappelletti with Rapini and Sausage Recipe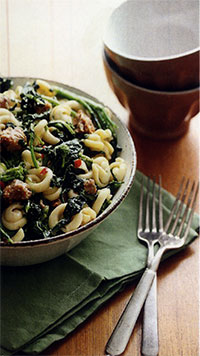 Ingredients
4 sweet Italian sausages (about 1 pound), casing removed and crumbled
1 bunch of rapini, washed, ends trimmed, and cut into bite-size pieces
2 cloves of garlic, coarsely chopped
½ teaspoon crushed red pepper flakes (optional)
Martelli Sea Salt and freshly ground black pepper
Freshly grated Parmesan cheese, for serving
500g of Garofalo Cappelletti (May also use Garofalo Farfalle or Mafalda Corta)
Directions
Place sausage in a large skillet over medium-high heat. Cook, stirring until browned, 5 to 8 minutes.
Add oil, garlic, and red pepper flakes. Cook, stirring about 30 seconds. Set aside for Step 4.
Bring 4 litres of water to a boil in a large pot. Add salt, return to a boil and add pasta. Cooke according to package instructions. After 3 minutes add rapini to the pasta water as well. Cook all together until pasta is al dente. Reserve 2 ladles of pasta water and then drain.
Place reserved skillet over medium-high heat. Using a large slotted spoon, add cooked pasta and rapini into the pan. Add one ladle of reserved cooking liquid (or more if it seems dry) and stir to combine; sprinkle with cheese and serve immediately.