Garofalo Gluten Free Gnocco Sardo with Sausage and Tomato Sauce Recipe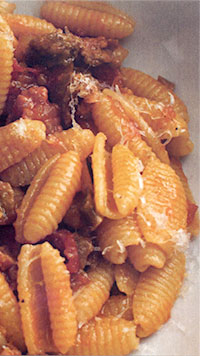 Ingredients
500g bag of Garofalo Gluten Free Gnocco Sardo Pasta
15g dried porcini
1 onion, finely chopped
½ tsp crushed dried chillies
1 tsp fennel seeds, lightly crushed
350g Italian sausages or other meaty pork sausages
120 ml dry white wine
400g can chopped tomatoes
Pecorino or Parmesan to save
Directions
Soak the porcini mushrooms in 100ml of boiling water for about 30 minutes. Drain the mushrooms and chop but don't throw away the soaking liquid as you will need it later.
Bring a really large pan of salted water to the boil. Meanwhile, skin the sausages and break the meat up into little pieces.
Heat the oil in a large frying pan, then add the onion, garlic, chillies and fennel seeds and fry gently until nicely coloured.
Add the sausage meat and mushrooms and continue to fry another 5 minutes. Add the wine and bubble for a couple of minutes to reduce, then add the tomatoes and mushroom soaking liquid. Season well with salt and pepper. Leave the sauce to simmer for about half an hour.
Cook the pasta according to the pack, then drain and add to the sauce, sprinkle with cheese and serve immediately.